Yay! My first official blog book tag, and to commemorate this occasion I've decided to start "Tag Tuesdays" 😀
So if I get nominated for any more tags, keep a look out for them on Tuesdays. Easy to remember, right?
Tagged by: Casey @ adoptabookaus ← check out her blog out! 🙂
[The YA Frenzy Tag was created by: icebreaker694 ]
---
Here are the Rules:
---
Read through the Q&A.
Answer the questions posted in your own post
Choose at least 3 to 5 other bloggers to participate!
---
Questions:
---
1. What book got you started on the path of YA?
I started reading YA in my teens (ha!..typical), which was many years ago (I'm 30 now. OMG) and I would say I read a lot of Harry Potter but since it's not really in the YA category.. my next best answer would be Twilight. I know some of you will probably cringe after reading that answer but I'm one of those people who's not ashamed to admit that I loved Twilight when it came out (before the movies and twihard fandom came about) and I still like it this day. The Twilight series will always have a place in my heart because it got me to start reading YA books! 🙂 #noshame
2. List 3 awesome book related gifs, add your own captions.
When the protagonist says/ does something they know they shouldn't but still does it anyways:
When you realise the idiot girl is going to choose the "other" guy:
When a friend finally starts reading a book and you realise you can start fangirling together:
3. What is one thing you hate in YA? What is one thing you love?
This is not just in YA but..I hate it when characters (who I've invested my time and love in) die unexpected or by the end of the book end up somewhere that you don't like. It feels unfair and lacking in some way.
One thing I love is the world YA takes me into. I never know what it's going to be like until I start reading and once I'm deep in it, I'm really DEEEEEP in it! (if that makes sense lol) and it's even better when you get to visit these worlds again when another book comes out in the series!
4. Take this Buzzfeed quiz and post your results. The quiz is "Are You Able to Identify the Real YA Cover From the Fake?"
You got 10 out of 10 right! 
Golden Bookworm
You're a gold-standard bookworm! You can definitely identify your YA covers like a BOSS. Never stop getting your read on.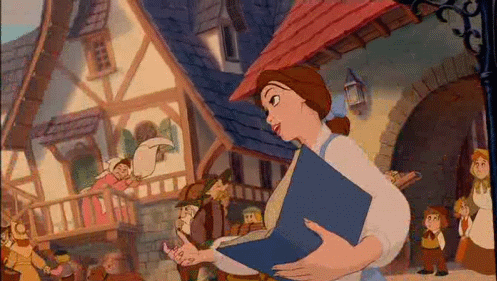 *Phew!* I wasn't familiar with a couple of the book covers, talk about lucky guesses! 😛
---
Blogs I Nominate for this Tag:
---
Catherine @ escapebyreadingblog
Ashley @ thenerdybookmark
Katie @ storyrealmblog
Kaye @ annbibliocastro
---
Had a great time putting this post together! Hope you guys like it! Whether I tagged you for this tag or not, hope you guys do this one too! 😛 Happy reading and catch you guys next time! ♥
*Please Note: Credit to owners of all images (gifs) used for this post.